LandlordMax Property Management Software Review

Is the popular LandlordMax Property Management Software worth your time and money? Find out the answer today with our full LandlordMax software review.
The first time we ran LandlordMax software (it runs on both PC and Mac computers), we were immediately greeted by its impressive number of features. It is apparent that a lot of hard work has gone into this program. In the screenshot below, you can see its full range of features on the left column (outlined in yellow):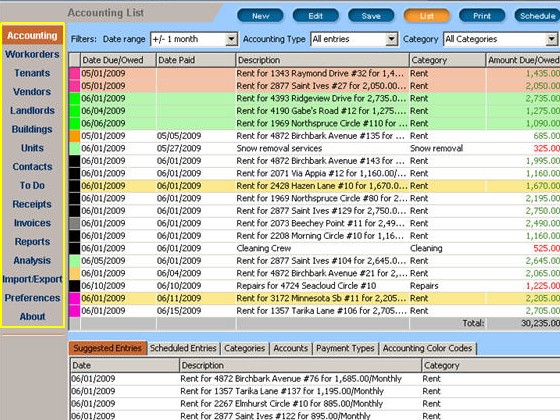 As we explored its wide spectrum of features, we realized LandlordMax is a all-in-one landlord software. If it does work as intended, it should be the only program that most landlords will need.

The major flaw with some landlord software is that they are overly specialized - For example, it may excel at accounting but have weak (or no) database features so you'll have to end up buying another separate program. LandlordMax Property Management Software certainly doesn't have this problem.
Its accounting features go beyond the usual rental cash flow and tax calculations - If your bills are overdue or tenants are late with rent, the program will automatically highlight these problems to you. There is also a complete database to store essential information such as your tenant details, property information, hired help, suppliers and even remaining mortgage payments.

We also had the chance to test out its powerful report generator that allowed us to analyze every aspect of our rental business with one click.

What We Like About LandlordMax - Part 1

For our LandlordMax software review, the first thing we did it with to compare it with our checklist of must-have features. The huge range of features that comes with Landlord Max far exceeded our expectations. It is quite safe to say the features of this software will be able to satisfy the most picky of landlords.

What is more important is that the features and functions offered by this software are both helpful and practical.

This makes it stand out from some programs which feel like a bunch of code strung together by programmers who know nothing about property management. This comes as no surprise since LandlordMax founder Stephan Grenier is a professional real estate investor himself.

LandlordMax also scores high marks in how it is able to handle late rent payments flawlessly. If you take a closer look at the screenshot above, you will see that late rents are color-coded to highlight their urgency. There is even a late fee calculator to help figure the exact amount of late rent fees to charge.
Ready to discover more plus points of this LandlordMax Property Management Software and learn what we don't really like about it?
---
NEXT: LandlordMax Property Management Software Review - Part 2
---