How to Find Tenants Online for Your Rental Properties

Do you know where to find tenants for rental properties? Read on as we reveal the best ways of finding tenants online.

What are the Best Free Sites to Find Tenants Online?

Craigslist.org - Craigslist has been and still is the big daddy of free online classifieds. Being especially popular in the United States and Canada, finding tenants on Craigslist should be the first thing on every landlord's to-do list.
There are two ways to find tenants on Craigslist. Go to the specific Craigslist website for your city/area and:
1. Register for a Craigslist account and post a classified ad in the "apts /housing" or "rooms/shared" category (outlined in yellow below).

2. Look for tenants in the "housing wanted" category (outlined in red below) - Posts are sorted from the most recent begin your tenant search from the top.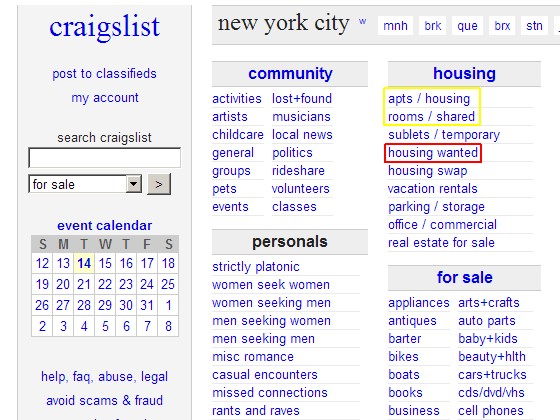 Zillow - Another online classifieds website that is highly popular with landlords and tenants. For this website, you can advertise rental property online under "Apartments for rent" or "Homes for rent". Unlike Craigslist, there is no specific category to look for tenants.
Facebook Marketplace - If you're a regular Craigslist user, you will find this website familiar and simple to use. Just like Craigslist, it has a minimalist layout that stresses function over form. What makes this website stand out is that it has a dedicated "rentals" category that is very active (often its most popular section).
There is also has a useful search filter that allows you to narrow down your search by rent amount and number of bedrooms. While this function is intended to help tenants, it's also a useful tool for landlords to compare how much rent similar rental properties are asking for.

How to Write a Good Ad for Your Rental Properties

Knowing how to write a good ad for a rental property is just as important. To write a good ad, pay attention to these areas:
Ad Title: Every copywriter will tell you that the headline is the most important part of your advertisement. In that limited space (Craigslist has a 70 character limit), you should create a title that is both informative and attractive.
Include the most important information in the title, including the number of bedrooms and specific location of your rental property. Try to weave in an unique benefit as well (e.g. seaside property, 3 minute walk from train station, high floor with great view etc).
Ad Description: List all the important details - The number of bedrooms, the amount of floor space (in sq feet or sq meters), heating and cooling fixtures, cooking facilities and whether pets are allowed.

Include a description of your rental property's neighborhood as well, giving special attention to nearby amenities and attractions - town centers, malls, train stations, eating places, beaches, parks and schools. Be sure to mention the traveling times to these amenities - e.g. three minute walk to the park or five minute drive to XXX shopping center.

Make it easy for any interested renter to contact you - Include a disposable mobile number and email address in your ad. Don't use your primary email address because spam bots are likely to pick it up and fill your inbox with junk mail.

Whenever possible, avoid short forms (e.g. E.I.K, W/D)  in your description. You're finding tenants for rental properties, not real estate professionals. The only exception I would consider are well-known abbreviations in the ad title if you're out of character space (e.g. BR for Bedroom or APT for apartments).
Images - A must-have. In this age of smart phones and digital cameras, there's just no excuse not to provide photos of your rental property. It's best to include at least one decent-sized (640 x 480 pixels) photo for every room in the property.
---
NEXT: How to Find Tenants Offline for Free
---